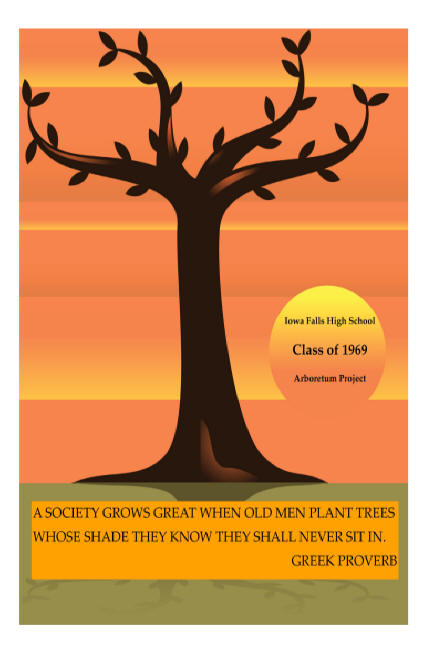 A man plants a tree knowing he will never see it die; a man sees a tree die and wishes he could see it planted.
The IFHS Class of 1969 held a final dedication of all the trees in their Memorial Arboretum at Calkins Nature Center. According to Robert Hill, a member of the class and one of the arboretum planners, "It's important for our class to leave a living legacy for the community where we grew up. We are pleased with the enthusiasm this project has received and it is our hope that in 100 years the people of Hardin County will still be breathing the air these trees create."
Speakers at the dedication included Chris Barber from Hardin County Conservation and Dr. Jessica Mahoney, the Program Coordinator and Faculty for the Conservation Technology Program at Ellsworth Community College.
Mr. Barber explained that the trees comprise an Oak Savanna. An Oak Savanna is a lightly forested grassland where Oaks are the dominant trees and are historically maintained through wildfires. Oak Savannas were once the most common vegetation in the Midwest but are now highly endangered and this Savanna is rare for Iowa.
Dr. Mahoney remarked that our Arboretum will not only serve as a living memorial to our class but will also serve as a nursery for Hardin County because the trees from the Arboretum will be able to be used in other parks and locations as well. The Arboretum will help provide habitat, contribute to clean air, and will help in conservation and overall beautification for generations to come. She also explained that she is excited to use the Arboretum as her outdoor classroom for her students, providing them with hands-on education.
As part of the program the names of the 25 deceased classmates were read and friends and family in attendance had an opportunity to share memories.
Following the reading of the names, the entire group walked (some rode in a tractor-pulled people mover) to the site of the Arboretum.
All of the funds have been raised for our Endowment which is to provide maintenance for the Arboretum in perpetuity.  Our goal was $10,000.