Chuck Corbin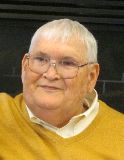 Glenn Charles "Chuck" Corbin, 75, of Coralville, Iowa, passed away Wednesday, June 25, 2014 at Lantern Park Nursing and Rehabilitation Center, Coralville, Iowa. Funeral services for Chuck Corbin will be 10:30 am Monday, June 30, 2014, at Bethany Lutheran Church, 2712 Washington Avenue, Iowa Falls, Iowa. A time of visitation will be from 5:00 to 7:00 pm Sunday, June 29th at the Linn's Funeral Home 1521 Washington Avenue, Iowa Falls, Iowa. Burial will be at the Union Cemetery, Iowa Falls. Memorials may be directed to the family c/o his wife: Gloria Corbin, 2138 Terra Lane, Coralville, Iowa 52241. The Linn's Funeral Homes Iowa Falls Chapel has been entrusted with the arrangements.

Glenn C. Corbin was born January 8, 1939, the son of M. Glenn Corbin and Dorthea E. [Nehring] Corbin. He attended the Mapleton Community Schools graduating in 1957. He received his Bachelors Degree at Morningside College in 1961 and a Masters Degree at Iowa State University in 1977. On July 15, 1961 Chuck was united in marriage to Gloria Lynn Rogalla in Belmond, Iowa. To this union two children were born: Allison and C. Chad. Chuck started teaching at Central Lyon Community Schools, then teaching and coaching at Waterloo Community Schools, next teaching, coaching, and administrating at Iowa Falls Community Schools. He then bought the Coachman Clothing in Clear Lake, Iowa. After closing the store he was a school administrator for RE-1 Valley School District, Sterling, Colorado. He retired in 1998 to Coralville, Iowa. During his tenure he was a classroom educator in social sciences and physical education, a secondary school principal, coached football, track, basketball, and baseball, was an athletic director, and always took immense pride in the success of his academic students and student athletes. Chuck had the ability to mentor students, find purpose, pursue success, and build lifelong relationships. He was passionate about his favorite hobbies; walleye fishing, collecting antique fishing equipment, and could never spend enough time on a dock casting his line. He quietly held his belief that all students had the potential to succeed and was instrumental in helping them achieve that goal. Chuck was a good man; father; husband and humanitarian. He held deep, quiet religious beliefs. As grandfather, Chuck avidly attended all grandchildren's activities.

Chuck Corbin is survived by his wife: Gloria Corbin; his children: Allison [Rod] Walter of Cedar Rapids, Iowa, C. Chad [Sharrie] Corbin of Etna Wyoming.; his grandchildren: Taylor G. and C. Evan Corbin of Etna, Wyoming, Naomi Hillsman all of Phoenix, Arizona, Roderick Kai and Charles C. Walter of Cedar Rapids. and one brother: and one brother: Gary Corbin of Omaha, Nebraska. He was preceded in death by his parents: M. Glenn and Dorthea Corbin; a sister: Eleanor Jerman; and a brother: Fredrick Corbin.